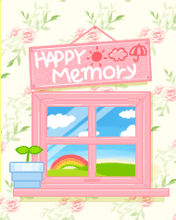 I come across this 'kuih' while i was surfing the net.It instantly reminds me the almost the same 'kuih' i had to make in a group on top of gunung jerai, kedah.It was part of the test for our co-curriculum activities.Our group was given a very limited ingrediants & we have to come out with a dish from it.If not mistaken,we were given coconut milk, glutinous flour & 'gula melaka'.Our group member came out with this recipe & she called it puteri berendam.We used 'gula melaka' as the filling, like 'onde-onde' bcoz' we were only given coconut milk, not grated coconut.If not,we can make 'onde-onde'.Then we cook in in the coconut milk.U know what,it was kinda funny when i tried to recall the incident but from that on,i learned another 'kuih' as my mom haven't made that kind of 'kuih' for us.It was like a sentimental value for me.
Some called it 'puteri berendam', some called it 'badak berendam'.Which ever it is,it is the same.The important thing is,it's delicious.Yum..yum..yum...
KUIH BADAK BERENDAM
-Siapkan Inti Kelapa dan Kuahnya terlebih dahulu

Bahan Inti Kelapa
200 gm kelapa parut (buang kulit arinya)
1 sudu makan tepung jagung
120 ml air
100 gm gula melaka
30 gm gula pasir
¼ sudu teh garam atau secukup rasa
1 helai daun pandan
Cara:
Masak gula melaka & gula pasir bersama air hingga gula larut. Kemudian tapis. Gaulkan campuran air gula ini bersama kelapa parut, garam dan daun pandan lalu dimasak atas api. Akhir sekali, masukkan tepung jagung dan digaul rata hingga inti pekat. Ketepikan dan biarkan sehingga sejuk sebelum dibulat-bulatkan sebesar guli sehingga habis.
Bahan Kuah

600 ml santan pekat
2 helai daun pandan
1 sudu makan tepung jagung atau tepung beras
½ sudu teh garam atau secukup rasa
Cara:

Satukan semua bahan lalu dikacau sehingga pekat.
Bahan Kulit

300 gm tepung pulut
180 gm kentang (direbus, kupas kulit dan lecek halus)
1 sudu teh pes pandan
230 ml air
½ sudu teh garam
½ sudu teh gula
½ sudu teh warna kuning
(Satukan semua bahan ini)
Cara:

Uli tepung pulut, kentang lecek dan semua bahan lain. Ambil sedikit adunan; leperkan dan diisi dgn inti kelapa lalu ditutup menjadi sebiji bebola. Buat begini sehingga selesai semua bahan tadi. Sementara itu, didihkan air dalam periuk, masukkan sedikit garam dan daun pandan. Kemudian rebuslah bebola-bebola tadi di dalam air yg sedang mendidih itu. Apabila sudah masak, bebola-bebola tadi akan timbul ke atas. Angkat dan terus bubuh ke dalam kuah yg telah siap. Siramkan kuah hingga menutupi semua bebola-bebola tadi.





BADAK BERENDAM
Ingredients :

The skin :
200 g glutinous rice flour (tepung pulut)
Enough water to make a soft dough
a bit of salt
1/4 teaspoon screwpine leaves juice
The Gravy :

1 1/2 cup thick coconut milk (from 1 1/2 coconut)
* I added a bit of salt
The filling :

1/2 coconut ~ grated
1/2 cup water
1/2 cup brown sugar
1 piece palm sugar
2 screwpine leaves ~ knotted
Method :

1. Prepare the steamer.
2. To prepare the filling : Place all ingredients in a pot and cook till thickens. Remove from heat and leave to cool.
3. To prepare the skin : Place the glutinous flour in a bowl. Make a hole in the middle and pour the screwpine leaves juice and enough water mixed with salt. Mix together to form soft and smooth dough.
4. Roll into small balls and flatten it. Place a bit of filling and cover.
5. Arrange the prepared dough with filling onto a banana leave on the steamer. I put them in a pyrex bowl.
6. Pour the gravy and steam for 20 - 30 minutes.





Badak Berendam
Bahan-Bahan:
1 bungkus tepung pulut
15 helai daun pandan, diambil airnya
2 biji kelapa, sebiji diparut dibuat inti dan sebiji lagi diambil santan pekat 2 cawan gula merah
Secukup air
Sedikit garam
Cara :
1. Bancuh tepung pulut bersama air pandan hingga menjadi doh lembut.
2. Ketepikan.
3. Kelapa parut dimasak bersama gula merah dan garam hingga menjadi inti.
4. Bentukkan doh lembut bulat-bulat dan isi inti di dalamnya.
5. Letakkan doh berinti di dalam bekas dan tuang santan pekat di sekelilingnya.
6. Kemudian kukus hingga masak.