Actually i've seen this kind of recipe in martha stewart's show long time ago. I was fascinated with it but i've no time to make it. But this time i saw the almost same food in myresipi. Coincedently last weekend my hubby bought a large cabbage from the market. So i said to myself, why not i try this recipe. I used ringo's recipe. Maybe next time i used martha's recipe. The difference is martha add in the rice, so her dish is a complete meal; rice, vege & meat.


KOBIS GULUNG
oleh:
Ringo

Bahan-bahan ( 6 ketul )
1 biji kobis
1 tin tomato (400gm) + 1/2 tin air
1/2 kiub ayam knorr
basil flake (optional)
1 ulas bawang putih
2 sb olive oil
3sb tomato puree
gula, garam, lada sulah secukup rasa.

--untuk inti daging--
@100gm daging kisar
@1 labu bawang besar(slice or dice ikut suka)
@1 biji telur
@1/2 sk garam
@sedikit lada sulah

Cara-cara ;
1. Didihkan air dalam periuk yang besar yang muat kobis.
2. Potong keliling tangkai kobis dengan pisau. Cucuk dengan garpu besar pada pangkal kobis dan celur dalam air yang mendidih sekejap.
3. Angkat dari air, rendam dalam air sejuk dan tarik satu lapis daun kobis. Ulang beberapa kali proses yang sama supaya dapat 6 keping daun kobis.
4. Kalau urat ditengah daun besar dan keras, hiris buang supaya jadi nipis. Nanti senang nak balut inti. Lap dengan paper towel dan letak tepi.
5. Dalam mangkuk, campur daging, garam, lada sulah dan telur. gaul rata. masukkan bawang besar dan gaul lagi. Bahagikan inti kepada 6 bahagian, letak atas daun kobis dan balut macam balut popia.
6. Cucuk dengan toothpick atau lidi supaya tidak terbuka nanti macam dalam gambar.
7. Ketuk bawang putih dengan pisau dan cincang halus. Masukkan dalam kuali bersama olive oil dan panaskan. Bila dah naik bau, masukkan tomato, tomato puree, air dan kiub ayam. masukkan roll kobis dan renihkan selama 15 minit.
8. Masukkan gula, garam dan lada sulah ikut selera. jika suka tabur basil flake(klu ada fresh lagi sedap), kacau dan tutup api.
9. Inti boleh tambah benda lain jika suka. (hampas kacang soya) & hijiki(seaweed hitam).
10. #!!# Jangan lupa cabut lidi semasa menghidang. :)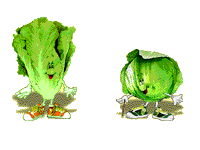 Daging Bungkus Kobis

Kiriman :
hazila
Sumber : Majalah Aneka Olahan Daging
Bahan bahan
10 lembar daun kobis - dicelur hingga layu
1 biji cili merah - dipotong-potong
Inti

300 gms daging cincang
1 biji putih telur
2 sudu makan bawang besar yg telah dicincang
1 ulas bawang putih dicincang
1 sudu makan sos ikan
1 sudu teh lada sulah
1 sudu teh garam
1/2 sudu teh gula
Cara-cara
1. Campur bahan inti menjadi satu, gaul hingga sebati.
2. Siapkan lembaran kobis yang sudah dicelur, isi dengan adunan inti dan tambahkan potongan cili besar ditengahnya.
3. Padatkan inti dan gulung hingga kemas. Ulang hingga selesai.
4. Kukus hingga masak. Boleh dihidangkan dengan sos yang sesuai.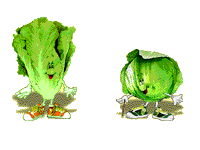 Stuffed Cabbage
Sources : Marthastewart.com
Ingredients - Serves 8

2 quarts water
1 large green cabbage (about 2 1/2 pounds)
2 tablespoons unsalted butter
1 large onion, chopped
1 garlic, finely chopped
2 cups cooked rice
16 ounces ground beef
Coarse salt and freshly ground pepper
1 tablespoon dried parsley flakes
1 medium green pepper, grated
2 celery stalks with leaves, finely chopped
4 cups tomato puree
1 Granny Smith apple, peeled, cored, and chopped
1/2 cup sour cream, plus more for garnish
Directions
1. Using a paring knife, remove center core of cabbage. In a large nonreactive stockpot, bring 2 quarts water to a boil. Add cabbage and cook 2 to 3 minutes or until outer leaves are bright green and tender. Lift cabbage from water, and remove outer leaves. Return cabbage to boiling water, and repeat brief cooking and removal of leaves until all leaves are cooked. Reserve 2 cups cabbage cooking water. Trim thick center vein from bottom of each leaf. Reserve four large outer leaves to line bottom of pan.
2. In a medium skillet, melt butter over medium heat. Add onion and garlic, and cook until golden and tender, about 8 minutes. In a large bowl, combine onion mixture, rice, beef, salt, pepper, parsley flakes, green pepper, and celery. Stir to combine.
3. Add about 1/3 cup rice filling to one cabbage leaf. Fold sides of cabbage over filling, and, starting with the stem end, roll the cabbage up. Repeat with remaining leaves and filling.
4. Line a 5-quart Dutch oven with reserved outside leaves. Transfer stuffed cabbage leaves to Dutch oven.
5. In a large bowl, combine tomato puree and the reserved 2 cups of cabbage cooking water. Pour some of the tomato sauce over cabbage to almost cover. Sprinkle apple over top of cabbage leaves. Bring to a boil and immediately reduce to a gentle simmer; cover. Cook for 1 hour or until cabbage is very tender, adding additional tomato sauce as needed.
6. Place sour cream in a small bowl, and ladle in about 3/4 cup of tomato sauce from the cooked stuffed cabbage rolls. Whisk to combine. Add sour cream mixture back to Dutch oven, and stir to combine. Serve with additional sour cream.